I found myself in a bit of a predicament this weekend.
Since quitting my job back in November, I've been making a little extra money by tutoring. It really isn't all that much, but we are going to put it toward our family vacation this summer.
In an effort to de-clutter my house, I've been going room by room and cleaning. I've thrown away tons of junk and donated even more. On Monday, I set out to organize and clean out our office. I organized our filing cabinet, found a home for all my tutoring supplies, and threw out things that have sat for years and collected dust.
I went on my merry way and so did the week. On Friday, I tried to locate my tutoring money. I didn't need it, so I'm not sure why I was even looking for it. I checked the drawer where I always kept it and it wasn't there. I checked another drawer and another and another. Before I knew it I was rummaging through the entire house frantically searching for it.
Mike began to sense something was wrong. I let him know what was wrong and he told me he'd look for it and find it. I was heading out with the kids to my Mom's house for the evening.
While at my Mom's, he called me to tell me that he had checked every surface of our house (couches and cushions included) and it was not there.
My heart sank. I immediately realized what I must have done. In the same moment, Mike did, too.
He said (in the calmest voice I've ever heard that could have only been guided by the Holy Spirit), "It's no big deal. It's just money. There isn't anything we can do about it so there's no reason to get upset." He paused and then added, "I hope one of the garbage men found it."
I tried not to let on that something was wrong, but my Mom has ALWAYS known when something wasn't right in my world. I started crying and told her what happened.
Everyone who was there immediately told me to pray for help from St. Anthony- patron saint of lost articles. I told them that I already had. I explained that I'd even taken the advice of a friend and thanked St. Anthony in advance for helping me find the money. She said that showed him that I had faith in him.
My Aunt said, "Then honey, you better pray for help from St. Jude (patron saint of lost and desperate causes)." And so I did.
I prayed that both saints would intercede on my behalf. That they'd help me find the money and that they'd pray for me.
While I was driving home, I really felt like I heard God speaking to me. I said (out loud), "Okay, God. I get it. I see what you are doing here!"
You see, I tend to get wrapped up in things that don't really matter. I worry and fret about money. I'm stingy and frivolous in the same breath.
He stripped me of my riches to teach me a lesson.
When I got home, I initially planned on just going to bed, but I still felt like I needed to look for the money. I retraced my steps. I looked through every surface. After an hour of searching, I finally found it in a place I just can't imagine putting it (Do you have chills because I do?). Praise God! Thank you, Jesus! Thank you, St. Anthony. Thank you, St. Jude.
So what lesson did I learn? I realized (yet again) that it is pointless to get wrapped up in things of this world. Money can make me happy momentarily, but God can make me happy for eternity. The money doesn't belong to me either. I have to be generous and give of myself (including my money) to others.
I've had every intention of giving some of my earnings away, but I'd never done it. I greedily stockpiled it away. This divine intervention was just what I needed to turn my soul and my heart back toward Heaven.
What I didn't know was that after I left my Mom's house, my Mom and my Aunt prayed unceasingly for St. Anthony and St. Jude to help me. They surely listened, but not before I learned my lesson.
Can you guess who I'll be honoring with my offerings?
Life happens when we turn away from greed and give.
Head over to the following to see some other faith filled posts!
Sunday Snippets and  Saints and Scripture Sunday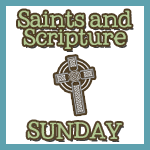 Photo Source: #1
Photo Source: #2
© 2012, lifehappenswhen. All rights reserved.